JAMIE MACCULLOUGH – MEANWHILE ARTIST
A talk given at the Environmental Art Festival in Dumfries on 2 September 2013
I thought it would be interesting, but also I hope instructive and inspiring – that's if I'm equipped and able enough to make it inspiring – to talk about the life and work of an artist very few of you will have heard of. His relative invisibility might also give hope to some among us who feel that we work hard but gain very little recognition for our work. Nevertheless we continue to apply our inner urges – our need to develop ideas and make things.
Jamie McCullough was a friend of mine who died in 1998 aged just 53. I intend to talk about three parts of his work, an urban playground, a forest walk and a collaboration with engineering.
Some years after his death I felt I owed it to him to write an account of his work. He was an artist who I believed had made some stunning and important work in the areas of landscape, in environmental practices and in making links with the sciences and engineering. However very little had been published about his work. The resulting essay, entitled 'Meanwhile Artist', was published in the magazine Sculpture Matters and is available on my modest website at davidharding.net
I knew of Jamie's work before I met him when in 1979 I picked up a small book that he had written about a place he had created called 'Meanwhile Gardens.' It was landscaped garden adventure play area and centre for community activity in the Paddington area of London. I was captivated by the language and style of the writing in the book and by the vision, imagination, energy and commitment of its author. I was not alone. One reviewer of the book wrote, 'Meanwhile Gardens' runs with a pace that left me breathless. It emits energy, disappointment and excitement with the zip of a Star Wars force beam…It is full of fantasy and mass activity……It is packed with joy and sense.' The name 'Meanwhile Gardens' intrigued me – putting the word 'meanwhile' with the word 'gardens ' was unusual and arresting. It is poetic.
In preparing my essay in 2002 I decided to go to visit it as I had never been there. I looked up a London A to Z and there it was, marked on the map near to Westbourne Park tube station. I was intrigued so I checked an old A to Z and found there was no mention of a Meanwhile anything and that no 'Meanwhile Gardens' existed. When I went there I asked people what they called the place and they all said Meanwhile, and one even said there's also Meanwhile Two at Royal Oak. I was astonished also to find that the local GP practice across the road was called Meanwhile Surgery.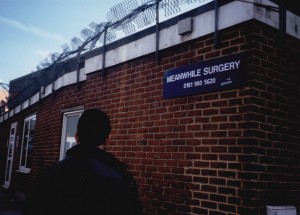 Jamie's poetry had become embedded and I thought how wonderful to have been able to create a new place and to have named it. It wasn't the last time he did that.
In 1980 Jamie sought me out at Dartington in Devon where I worked. He wondered if my students would be up for working on a new project – a forest walk. This was the start of my friendship with him and my association with what Jamie eventually called 'Beginner's Way'. It was a mile and a half walk in Haldon Forest near Exeter. Jamie's concept was totally original. Unlike the numerous nature trails or sculpture trails, he used art to create a completely new way of experiencing a forest and engage people in exploring its multiple facets. Visitors often described an instinctive sense of wonderment they hadn't experienced before or only as small children.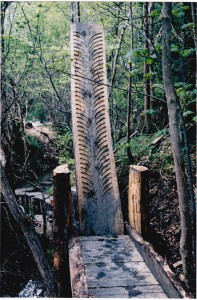 According to the Forestry Commission in the seven years that it existed 'Beginner's Way' drew around half a million people to the forest. And here is what I believe marks Jamie out as special. He refused to advertise or promote 'Beginner's Way' and turned down numerous invitations for tv, radio and magazine features. Jamie's belief was that after someone had walked it by chance they would pass on their experience and encourage others to visit. Thus its existence would be passed on by word of mouth. Eventually its popularity and lack of funding for maintenance meant that it began to deteriorate and has now almost completely disappeared into the fabric of the forest. As a walk it simply doesn't exist any more.
Jamie knew this but it didn't seem to bother him. In any case he was on to other things – designing and building bridges: living organic ones in willow and fixed ones in hardwood in various places across England. After his first bridges as part of 'Beginner's Way' he had become interested in engineering.
I came to Glasgow School of Art at the end of 1985 and was invited to join the board of the Scottish Sculpture Trust. We formed an offshoot of the Trust to promote links between the arts and the sciences and came up with an acronym 'ASCENT' – standing for art, science, engineering and technology. Among other things we applied for a small grant from the Scottish Arts Council for a 4 month artist residency at the Dept of Civil Engineering at Strathclyde University. Unknown to me Jamie saw the advert while working in England and applied. As a selector I knew that he was the right person to appoint. Thus began a long association between Jamie and the professor of Civil Engineering, Iain MacLeod, who was also a member of 'ASCENT'. The residency was so successful that Iain applied to the Science Engineering Research Council for funding to employ Jamie for a longer period. He secured a year's salary which they agreed would pan out as 3 months in residence per year over four years in the department, thus creating the opportunity for ideas to evolve over a longer period. So here we have, to my knowledge, a first in which a science research funding body was actually funding an artist residency. Jamie worked on novel concepts of bridge structures. He called these Load Nets and he wrote, ' I was sure I was on to something – a completely untriangulated, totally flexible structure which stays the same shape by balancing load wherever it is applied, seemed to be a major advance over things that are merely rigid. Philosophically there was something extremely beautiful about it. It was a lovely solution. It just needed the right problem.' He turned down £10,000 from Balfour Beattie to develop his work as he would have had to surrender the results to the company. Strathclyde University promptly patented his ideas. Iain MacLeod wrote about Jamie's impact: 'Structural engineers tend to work with systems that are rectangular. Jamie had a deep understanding of systems that are curved. He could sense the way that forces would flow in three dimensions.' Jamie gave lectures to the students on creative processes and how to get inside a problem. He spoke about the difference between thinking and wondering.. 'Let's assume you've attacked the problem from every conceivable angle and the broken shards of different approaches are lying in heaps round the back of your brain. (if not you haven't been trying!) Those shards will drift into the fog. Don't start thinking about them. With thinking you focus on one of them, gnawing at it, analysing it, tearing it to pieces. With wondering you just hold it gently in mind. Where they come in images let them drift on the fog as best you can so you can see them. Hold them in mind. Nothing more let them be. Don't try anything else. Hold them in mind……….' Iain later wrote: 'The idea of getting inside a system is catching on. I have heard our students talk about 'McCulloughing' a difficult problem.' I've given talks to engineers, and also to Iain's students, and have stressed that they have to think of themselves as creatives. (I've said the same when I've talked to planners and planning students. ) Think of all the parts of our environment that civil and structural engineers create, roads, bridges, damns, etc etc. If they don't think of themselves as 'creatives' then we've lost the battle before it is even begun. I was surprised last week when a leading engineer, who built the Olympic Velodrome, confessed to recognising only a few years ago that what he was doing was creative design.   Society in this country  has to recognise the value of engineers as they do in Germany where engineering is seen as highly respected profession like architecture.
I suggest that it was working as an artist, and in Jamie's case particularly as a sculptor, that was having this profound effect on civil engineering and its students. How tragic then was it to read of Strathclyde University's recent decision to scrap its responsibility to the arts and thus its students. The Vice Chancellor foolishly claimed that he wanted his university to be the MIT of – what Scotland – the UK – whatever. How stupid of him when MIT believes so profoundly in mixing the arts with the sciences. It has among other things the world renowned Centre for Advanced Visual Studies. I recently had the pleasure of meeting a graduate of MIT, Grace Kane, (daughter of one of our speakers this evening Joan MacAlpine) who gave me a first hand account of her experience there of how she was exposed to the arts while doing her science degree. I suggest Grace writes an essay of her experience and to send it to the Vice Chancellor or to seek to have it published.
When Jamie was not at Strathclyde he was working on other projects elsewhere in the UK. One of these was on polluted rivers in Durham. He experimented with floating sculptures that in moving and breaking through the surface would oxygenate the rivers. I have a video of him using the tanks at the university testing out models. Jamie wrote – and I'm only going to quote the first two sentences here, 'Oxygen molecules hit the water surface at high velocity penetrate to a depth of 0.1 to 0.3 mm and stop. The skin of the water is therefore instantaneously saturated with oxygen and no more can enter until some have been carried deeper either by diffusion or turbulence.' Here he shows us that if one is going to collaborate with specialists in other disciplines it's helpful, important, no essential to learn something about that discipline.
The unpublished summation of his work at Strathclyde he entitled 'Skyhook Underneath' (another poetic title). I tried to persuade him to write a book on his work because as we all know unless one's work is written about and published and circulated it never reaches a wider audience. But Jamie was always too busy making. 'Skyhook Underneath' only deals with some of the work he developed at Strathclyde. I've already used some quotes from it so although he died he still speaks to us through his work.
What I'm trying to say is what Brecht said about making work, 'never go forward without first going back to check the direction'. We all build on the work of others. What was it Eliot said or was it Macdiarmid – it's one of those quotations that are constantly misattributed. 'Poor artists borrow; great artists steal. '
Jamie had lots of other work in the pipeline. A willow bridge over the River Kelvin with a copse of willow trees planted at each end to be coppiced over time for the renewal of the bridge when needed. This was commissioned by Glasgow University for their playing fields as a project in which Jamie would work with engineering students. So he designed it to be constructed with metre or so lengths of wood. The Forestry Commission had asked him to create a new form of Beginners Way at a forest in Aberdeenshire. Both projects I believe had stalled. He had just finished 'The Winterhouse' for Peter and Sue Stark, old friends of his, in Northumberland when he began to cough up blood.
So what can we learn from what I've described through the work of Jamie McCullough.
Certainly a personal belief and conviction that what we do is worthwhile.
That one does not need public approval – though it's nice when it happens – to continue working.
That we must learn from the past.
That it is not a fault if we are inspired by the work of others to take that work and transform it for ourselves. The great literary critic Harold Bloom believed that writers intentionally mis-read the work of earlier writers. They use it but transform it.
That in collaborating it will assist our work if we learn something of the other discipline.
Odd pairs of things come to mind when I reflect on Jamie's life and work like research and pleasure, intention and chance, poetry and politics, controversial and consistent, misreading and invention. And finally that to achieve the impossible you have to attempt the absurd.
In 1985 Jamie rushed into my house in Dartington clutching a cassette tape and asked me to play it.  I heard some extraordinary sounds……………………………. What's that I said? Jamie replied. It's the sound of sap rising in trees and I'm off to the north of Scotland to create a symphony in a forest. That was Jamie – he was always the SAP RISING!
David Harding 2/9/13
'About the Way to Construct Enduring Works'
Bertold Brecht, c. 1930
The Skyhook Underneath paper is available at: http://www.imacleod.com/innovate/skyhook/index.html